[Lecture] On the Edge of Reality: When Art Meets Technology / 2023.10.30 Mon. 19:00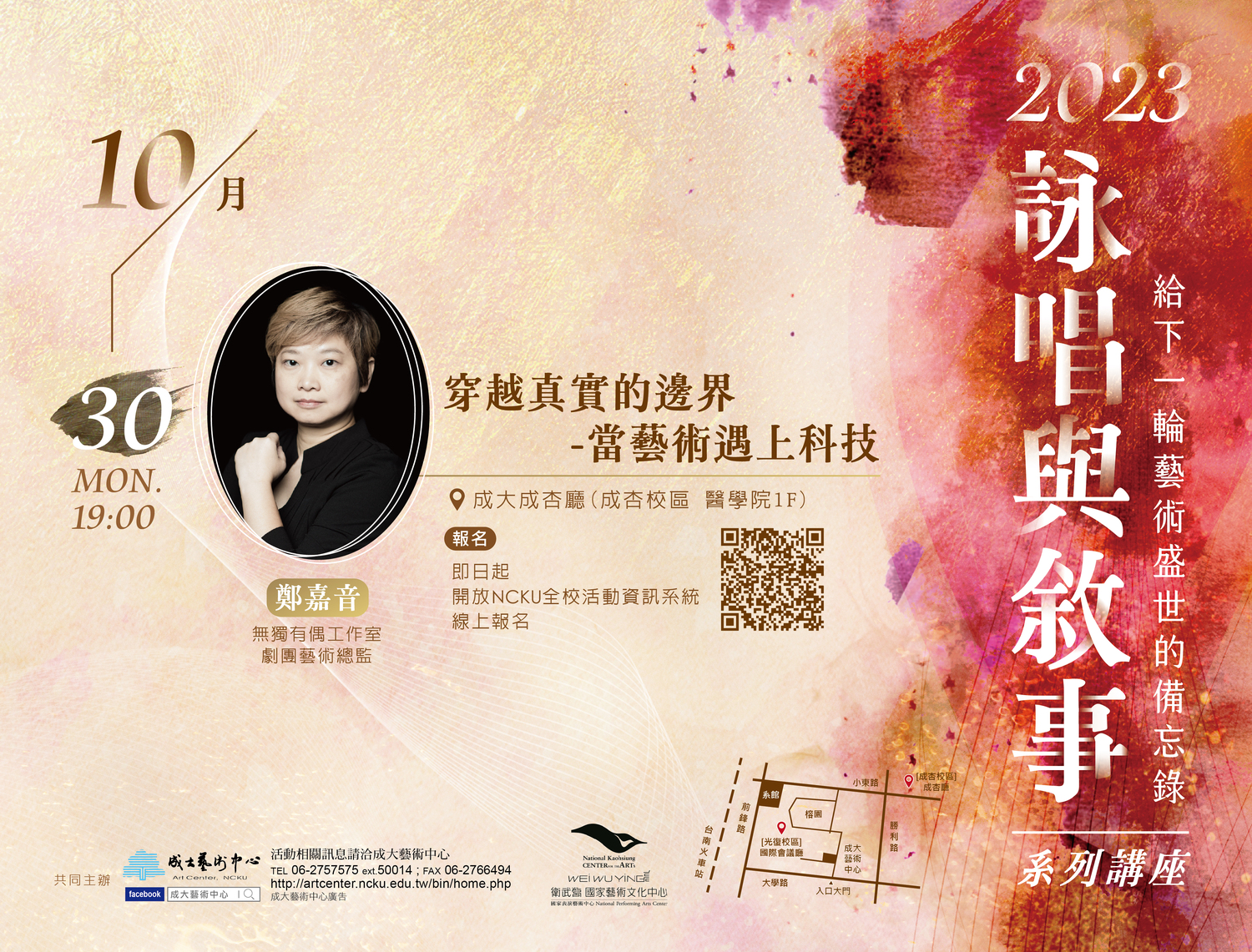 2023 "Chanting and Narrating: Memo to the Next Era of Art Boom" Series:
Topic /
On the Edge of Reality: When Art Meets Technology
Time /
2023.10.30 Mon. 19:00
Speaker /
Chia-yin CHENG / Puppet & Its Double Theater Artistic Director
Venue /
College of Medicine 4
th
Lecture Room (

Second Floor,

College of Medicine Building,

CHENG-HSING Campus,

NCKU

)
※
"Learning by Practice" Course
Following the advent of the digital age, it has become a popular trend to integrate multimedia technology, digital devices, and virtual audio and video into theatrical performances. To deliver
"
puppet shows,
"
a type of puppet art, puppeteers are often required to do rehearsals. Today, technology-provided creativity can be incorporated into the structural design of puppet shows so that it can be fully integrated into the shows, making them innovative. In recent years, Puppet & Its Double Theater has held power-generating machine and technological art-related workshops, presenting the R&D results of Artistic Director CHENG Chia-yin. Lately, Cheng has dedicated herself to integrating technologies such as 3D projection, miniature photography, and virtual reality into puppetry works, giving birth to shows such as
"
On the Edge of Reality
"
and
"
Homecoming.
"
In a lecture, Cheng will share with the audience her creative experience on uniting Taiwan
'
s
"
contemporary puppet shows
"
and technology together when creating puppet shows, opening the audience
'
s eyes to the essence of puppet show aesthetics, how everything can be a puppet in puppet shows, and how Taiwan's contemporary puppet shows will set off a wave of magical theatrical performances.
The co-founder and artistic director of
Puppet & Its Double Theater
and an instructor in the Department of Drama and Theatre at National Taiwan University, Chia-yin CHENG with
a cross-cultural vision and cross-disciplinary aesthetics has directed many modern puppet plays. She is good at using shapes and objects to create poetic and rich visual images, triggering the avant-garde trend of using puppets as an important expression medium in contemporary theater. The creative work explores various possibilities for puppets to perform on the same stage and communicate with the audience. She has been shortlisted or nominated for the Taishin Art Award many times, and has been invited to perform at international art festivals in 15 countries.