[Lecture] Amazing 30 of TQT: Nonstop Laughter Watching Xiangsheng / 2023.5.2 Tue. 19:00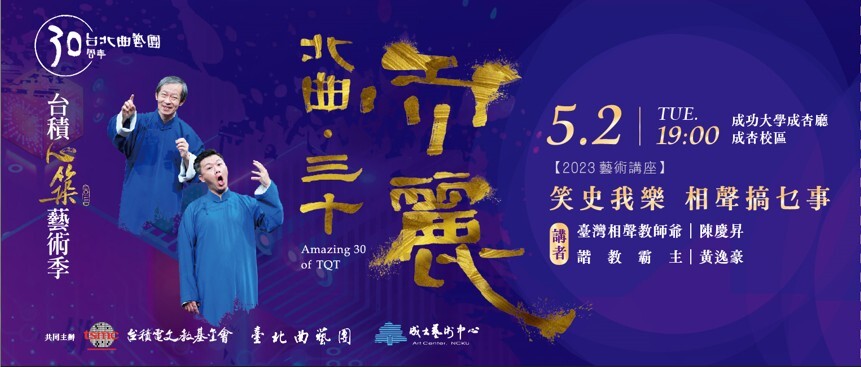 2023 Art Lectures
Topic / Amazing 30 of TQT: Nonstop Laughter Watching Xiangsheng
Time /
2023.5.2 Tues. 19:00
Speaker /
Chen Ching-Shen (Actor / Comedian)
Huang Yi-Hao (Actor / Comedian)
Venue / NCKU CHENG-HSING Campus CHENG-HSING Auditorium
Admissions / By ticket only
*Ordering tickets at NCKU Art Center office
Start from Wednesday, April 12, 9am to 5pm and each person is limited to purchasing 2 tickets, while tickets remain available.
NCKU Art Center office closed from noon to 1pm at weekdays, and weekends are not available. ​
*NCKU students please register through the "Campus Activity Information System".
Introduction
Xiangsheng has remained popular for over a century because it makes people laugh!
Listening to Xiangsheng relieves people from their worries and reminds them to take a break to gather the strength needed to move forward. Chen Ching-shen, a Taiwan Xiangsheng master teacher, and Huang Yi-hao, the first Xiangsheng actor who reached stardom in the talk show industry, teach the audience the amusing history of Xiangsheng, explain the current situations of Taiwan Xiangsheng, demonstrate the intimate relationship between Xiangsheng and contemporary comedy, change the way young people view traditional performing arts, and deliver a hilarious performance. Concurrently, an introduction to the Amazing 30 of TQT held at the 2023 TSMC Hsinchu Arts Festival on June 3 will be introduced.
About the Speakers
Chen Ching-Shen
Chen Ching-Shen, who studied under the tutelage of Chinese Xiangsheng master Chen Yong-Quan, is a Taipei Quyituan Xiangsheng, stage show, film, television, and commercial actor who has starred in films Beautiful Accident and Double Vision. His latest performances include Best Interest 2 (a TV series), Gold Leaf (a Hakka TV series), Human Ball (a Taiwan Public Television Service Foundation film), and A Matter of Life and Death (a Disney and original TV series).
Huang Yi-Hao
Huang Yi-Hao is a Taipei Quyituan Xiangsheng actor and a "stay-home" Xiangsheng master. He is a leader among new-generation Xiangsheng actors and one of the few Xiangsheng actors + talk show performers in Taiwan. With a thick and high-pitched voice and a mastery of liuhuo and guankou, Huang adds a lot of stay-home cultural elements and young generation-like thinking in his performances, giving birth to a unique personal style. His works include Azhai Wants to Leave the Group, Is the Princess Sick, and Justice Man. In 2018, Huang became immensely popular online because of his talk show Cute Gesture, which has generated 20 million views on Sina Weibo.
Organizers: The TSMC Foundation, Taipei Quyituan, and NCKU Art Center